Certified Yoga Instruction
Licensed Medical Massage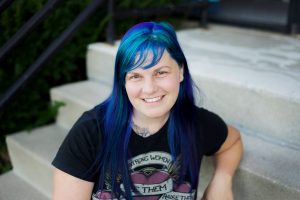 Jo Downing-Groth has always been a nerd for biology. Her middle school P.E. teacher had no idea what she was starting when she introduced her to a weight room, so many years ago. While never participating in group sports, she maintained a love for movement and strength, happily spending teenage hours in weight room sessions and reading anything physiology related. Her passion turned into a profession as she began collecting certifications for Personal Training, Yoga Instruction and other related (and some not–as-related) practices. When she began teaching yoga in 2001, it was evident that her style was distinct and earned her the nickname "Joga", which she proudly carried into Joga Somatic Arts in 2005, when she became a Licensed Massage Therapist and added that service as well.
In the last 17 years, Jo has worked with many diverse groups, gaining knowledge and experience anywhere it can be found. She has taught injury prevention and performance for youth sports of football, soccer, swimming, dance, cross country, wrestling and others. Athletes have come to her to prepare for derby bouts, ultra marathons, triathalons, martial arts and boxing matches, bodybuilding competitions and their first races. She has coordinated with physicians and therapists to help clients with MS, fibromyalgia, CFS, lupus and other autoimmune disorders gain balance, strength and freedom from pain. On many occasions she is happy to volunteer her services to groups including Girl Scouts of Buckeye Trails, Osher Lifelong Learning Institute, Dayton Metro Library and other local non-profits. She has success and experience in treating a multitude of complaints, including frozen shoulder, plantar fasciitis, back and knee pain, stiff neck, torn and pulled muscles, migraines and too many others to list here! Her favorite part of what she does is using her knowledge to improve quality of life and connection to body through massage, yoga instruction (or stretching recommendations), postural assessment and insight into daily routines.
You can schedule an appointment with Jo here.